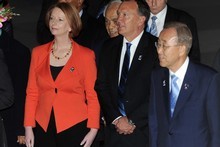 PM. Australi and Sekjen UN/ Pasific Forum
The Pacific Islands Forum formally opened this morning - the only signs of controversy a protest in support of West Papua outside.
The leaders of the Forum countries were greeted by school children singing as they entered the Cloud.
Forum Secretary General Tuiloma Neroni Slade opened the Forum with a speech emphasising the risk climate change posed. He thanked UN secretary general Ban Ki-Moon for his visit to the Forum and for ensuring climate change was uppermost in the minds of leaders.
Prime Minister John Key - now the Forum chair - spoke of New Zealand and Australia's responsibility to support the "family" in the Pacific.
Just outside the venue was a protest in support of West Papua, including a Papuan man in a bamboo cage.
Green MP Catherine Delahunty also made her way into the venue, where she stood silently holding a placard urging the leaders to "remember your West Papuan whanau."
Security at the venue spoke to her briefly but allowed her to remain.
She said she had undertaken not to make noise: "I don't want to spoil this - I just want to raise my issue because Papuans aren't allowed in here."
The opening ended with a brief display including Pacific dancing and hip hop.