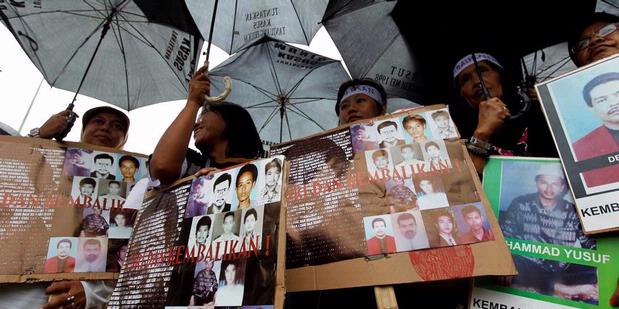 JAKARTA,
kompas.com
The Commission for Disappearances and Victims of Violence (Contrast) rate during the year 2011, the government, especially President Susilo Bambang Yudhoyono has not seriously carry out its promise to resolve past violations of human rights violations. Until now there is no clarity regarding the settlement of numerous cases of human rights violation which is still stuck in the Attorney General.
"We express deep disappointment to the President that never run a political commitment to resolve cases of gross human rights violations in the past. During the year 2011, changes in the expected casualties on the settlement of various cases of gross human rights violations are still roads in place," said Deputy Coordinator contrast, Indria Fernida in Jakarta, Thursday (12/29/2011).
Earlier, President Yudhoyono in mid-November and then form a small team handling cases of severe human rights violations. The team that has the mandate to find the best format for resolving cases of gross human rights violations of the past was led by Coordinating Minister for Political, Legal and Human Rights Djoko Suyanto, along with a number of related Ministry.
According to Indria, some parties felt that team building is a good step to run the government on the completion of a comprehensive settlement of past gross human rights violations. However, during the year 2011 there is no meaningful effort of the team formation.
"Until the end of the year, the team only responds to and accommodate community input and expectations of victims and undertaking visits to victims Talangsari, meeting with victims and victim's Tanjung Priok Semanggi I and a visit to Kupang to see the condition of former East Timorese refugees," said Indria .
Therefore, Indria expect, President Yudhoyono can handle a number of cases of serious human rights violations. Moreover, he considered, in 2012 will continue the pull of national political influence on the political struggle of human rights, especially for the handling of past human rights violations.
"And this situation will be more worrying if the President did not take decisive and concrete action to resolve cases of gross human rights violations in the past in an effort to move forward in the future. The president also should urge the Attorney General to resolve this issue," said Indria.
As reported, a number of cases of human rights violations is still running in place. Some cases include cases Semanggi I and II (1998 and 1999), May 1998, Abductions and enforced disappearances from 1997 to 1998, 1989 and Talangsari Wasior-Wamena, Papua (2001 and 2003).
Chairman of the National Commission on Human Rights (Komnas HAM) Ifdal Kasim in Jakarta, Tuesday (16/11/2011), although some admit Komnas HAM investigation into allegations of human rights violations in the past have done and given recommendations, but when it will be upgraded to the investigation always meet obstacles. He said the Attorney General did not want to follow up the investigation of alleged human rights violations in the past because there is no ad hoc human rights court. Meanwhile, to establish an ad hoc human rights court should be based on Law No. 26/2000 where there should be a recommendation from the House to the President.